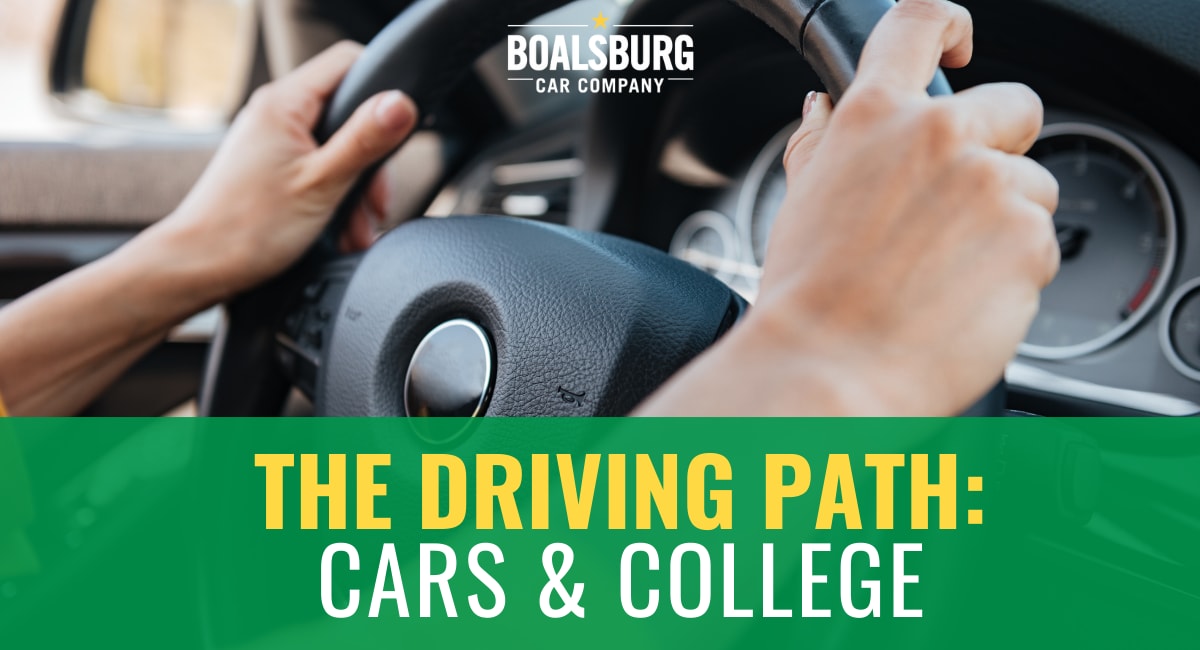 Emotions Incoming
It's that time of year—parents all over the nation and our community are preparing their recent grads to step into a new adventure as they send them off to college. This can be a great time. It can be a time where the tear reserves of good ol' mom may also seem endless. Whatever the emotions are, Boalsburg Car Company is here to help you set up a game plan to make sure any crying that occurs isn't because your car broke down on the way to the dorm. Let's jump into your options.
A Lesson In Finances
First things first—college is expensive. With the feeling of the almighty loan empowering your aspiring student, supporting them to purchase their own vehicle for school can be a great choice. At BCC, we pride ourselves on being able to educate and connect with any customer, whether or not it's their first vehicle purchase. So, this is a great way to support your child, help them understand the meaning of the dollar, along with the responsibility of owning their own vehicle. Hey, it definitely won't be the only lesson they learn over the next four years! We make it easy to connect with our team to identify your budget and find the perfect vehicle that can stick with your student through college.

Skip the Lessons
Now, if you want all the lessons to come from college—that's fine too! Stop in, shop around, and talk to us about your vehicle goals. Our expert team will support you to find the best deal and vehicle to send your child off to college with. Even if they leave next week, you have plenty of time to stop in and get some wheels for your student. Take advantage of our transparent pricing and the security of reliable transportation for your entire family.
The Ol' Switcheroo
You may say to yourself, "Well, making my kid save money and buy their own vehicle sounds great and all, but I want to help." Firstly, you deserve a spa day for being that kind of parent. Secondly, we have a game plan for that too! You are probably overdue for something new to cruise around in...right? Trade in your current vehicle and use your trade in funds to help out your kid's first purchase. With our transparent and full-value appraisals, you may just have some extra cash to put towards your new vehicle too. This is a great way to avoid hearing that your kid has a more modern car than you.
The Hand-Me-Down
Another great option to explore is handing down your four-wheeled trecker to your child. You have trusted your own safety and transportation with that car and you trust it to take your kid back and forth, that's great! But, you hand it down and all of a sudden you don't have a vehicle—don't sweat it! Just call BCC today and join in on all of the great deals, customer service, and amazing vehicles. You deserve a little reward for all the hard work you have put in up to this point. Hand it down and pick out something new today!
Services That Stick Around
So, there you have it. Options to help you build a SOLID college game plan for transportation. To and fro can mean a lot with spring breaks, weekends, and holidays all putting heavy wear on the vehicle. When you choose Boalsburg Car Company as part of your transportation game plan you can rely on our expert routine maintenance services and guidance to keep all of your vehicles in the game. All you have to do now is choose what works best by
connecting with us today.
Come experience Modern Cars & Classic Service—only at Boalsburg Car Company.