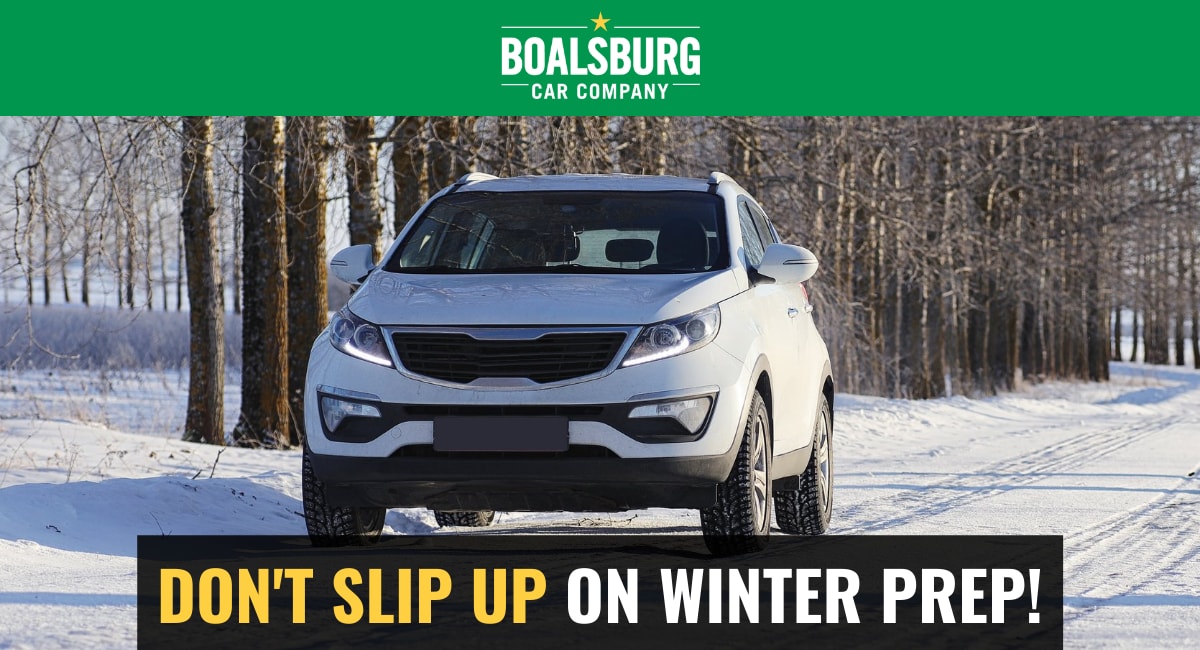 What the Slush
Oh lord, he's comin'. Winter is literally knocking on our windows and the cold is really starting to set in. Tons of people treat this season like a war when it comes to their cars, hoping to just get where they are going with no real assurance their car can handle it. Let's go over what will get your vehicle in tip-top shape to take on snow, ice, and slush alike. Don't be salty about it either, there will be plenty of salt on the road already!
More Than An Ice Scraper
Basic tip: Keep an ice scraper in your car. But you know us, we don't want to just talk about the basics. What your car needs for a successful and safe winter starts on the inside. Before it starts getting too cold you should:
Check or change your oil

?

Have Boalsburg Car Company check the status of your car's heating system

?

Have all mirrors and windshield cleaned and apply a weather protective coating (waterproof is better, think RainX)
These three key functions of your car are your first steps towards a safer winter driving experience. And guess where you can knock out all three quickly and cheaply? YEP! Right here with your pals at BCC!
Your Tires...On Ice
No, that is not the name of the next ice skating visual masterpiece...it actually can be more like a horror movie if you don't check before the freeze. Your tires are there to grip, but, when they become smooth from overuse you are looking at a perfect combination for some slippery shenanigans. This is the MOST important part of safe winter driving. If your tires have no tread, just get back in bed and take a snow day. But when it's time to hit the road, stop by Boalsburg Car Company for a quick switch up. Then you can kiss your icy worries goodbye!
Brr...Let It Warm Up
What if we showed up in your bedroom and shook you awake on a cold winter morning and made you immediately go outside and start running. You'd be shook. That's what we do to our cars, or at least some of us do! Warming up your car doesn't have to be an hour long process and in fact that is not recommended. You should however, let your car warm up for a few minutes before cruising away! This gives the vital systems of your vehicle a chance to melt any ice accumulation and give you a safer driving experience on colder or icy days.
Wipers, ON!
None of these tips matter if you can't see out of your dang windshield! So the weather resistant protective coatings again are great but won't save visibility in a blizzard or sudden snowstorm. When it comes to that department, your trusty wipers are your ally. An easy way to know when to change them is if they make any screeching or dragging sounds. This usually points to a set of wipers who have wiped too much and need replacing. We will click on some new ones quickly for you when you winterize your vehicle at BCC.
Your Winter Wonderland
Sooo...are you ready to go after your winter wonderland? We bet you ARE! Just before you do, get some more security in the safety of your vehicle by connecting with our experts. This year, you really do win at winter. Be safe out there, folks!