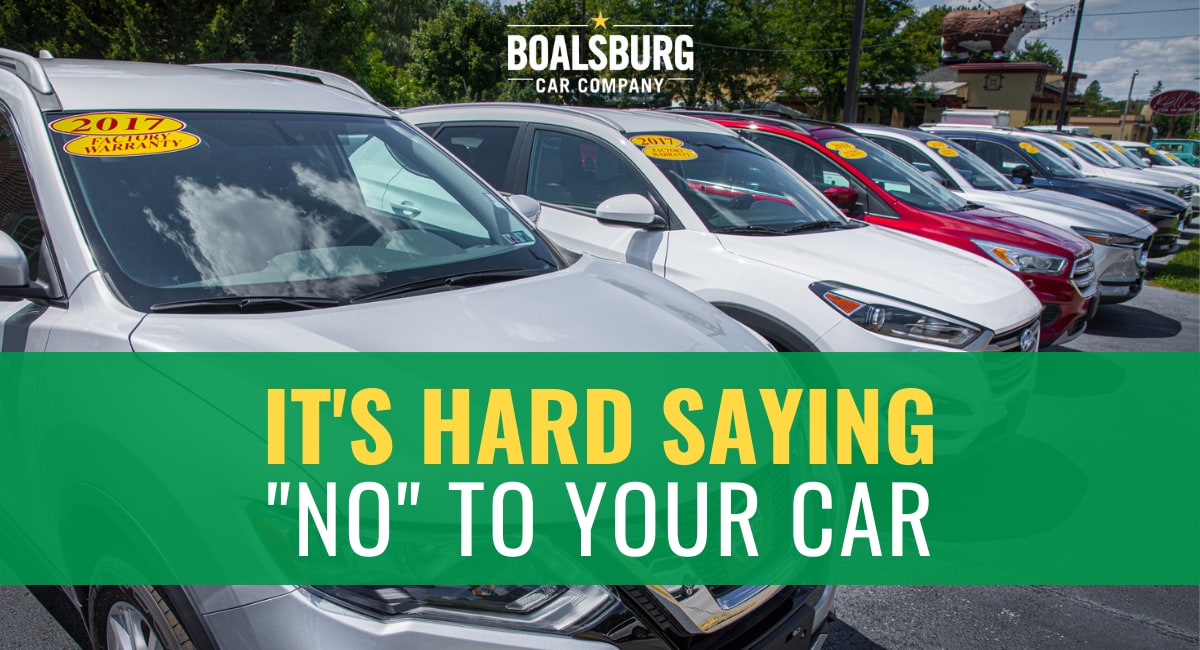 It's Hard to Say No
Ah, again, we find ourselves excited to tell you about our initiatives here at Boalsburg Car Company. We are having a hard time saying no––to buying peoples' cars. It really is becoming quite an enjoyable habit for us and we have seen and met so many wonderful people. To that tune, we want to give you some reasons why selling your car to Boalsburg Car Company feels more like gaining something new.
It's Okay to Let Go
Some people grow very attached to their vehicles. We do too! But there comes a time when that vehicle no longer cuts it. Maybe your family has grown, or you hit that elusive 150K mile mark. Wouldn't it be nice to chat with some people who see the same beauty you do in your vehicle? Look. No. Further. We see it and we want to help. Every day we are seeing the value and paying the clear transparent value for your automatic partner. Just one of the many perks when you sell to Boalsburg Car Company.

Make It New Again
You might be saying goodbye to one vehicle, but with Boalsburg you are in the perfect position to be saying hello to a more modern ride. Get even more value on your vehicle when you trade in and upgrade to something fresh from our lot. Enjoy overnight test rides, expert answers to any questions you might have, and the security that you are getting the most value for your trade in. We are a part of this community––helping you is our favorite way to show it!
Cash Money Baby
Of course, if you are just looking to unload your old clunker for a quick payout, we have you covered there, too! Tow it in, drive it in, push it in to our lot and we are happy to offer you at least something for it. You don't have to worry about long drawn-out purchasing processes either. Our goal is to keep your time as the priority of our interaction and get you in and out ASAP. Now, if you aren't in a rush, grab a cup of coffee and let's talk.
It's Just Easy
We can't make it any clearer. It really is easy when you sell or trade-in with Boalsburg Car Company. We get better and offer great deals every day. Where other dealerships see no potential, we see a way that we can help you reach your goals and stay in your budget. What are you waiting for? Come visit us today.