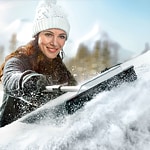 It's wintertime and it's cold and wet outside, but you have to drive somewhere. You'd probably rather be home drinking hot chocolate while sitting by a cozy fire, but sometimes you just can't avoid driving in poor weather conditions. At Boalsburg Car Company, we want you to be safe anytime you drive, so here are some tips for driving in Boalsburg in the wintertime.
1. Before you go, check the weather so you know what to expect.
2. Allow yourself plenty of time to get to your destination.
3. Stock your car with essentials in case…
Read More